Mike Daniel B.Sc., MSc, PhD
Principal and Managing Director
"working day and night around the globe"
Mike Daniel is an independent grinding circuit consultant based in Australia. Consulting services are via one of two business entities, namely:
CMD Consulting Pty Ltd (Since 2007)
Daniel and Morrell Comminution Consulting (DMCC) Pty Ltd. (Since 2012)
DMCC and CMD consulting are separate companies that are differentiated by the ownership of different types of intellectual property (IP).
CMD Consulting has access to JKSimMet and Limn simulation software
DMCC Pty LTD has access to a licensed version of Morrell's power modelling methodology.
Mike is also principal consultant for the Chinese mill manufacturer Citic-SMCC Pty Ltd that holds the parent licensing intellectual property (the IP*) that is used and owned by DMCC.
* The above mentioned IP which has been internationally recognised was developed by Dr. Steve Morrell of SMC testing Pty Ltd. The consulting tool (the IP) was sold under a licensing agreement to CITIC-HIC in 2012 when Citic-SMCC was formed. At this time DMCC Pty Ltd was formed in collaboration with Steve Morrell to offer totally independent consulting advice to the minerals industry.
Mike has extensive experience in the design and application of High Pressure Grinding Rolls (HPGR) technology and conventional SAG grinding. Economic trade off studies often cover the scope of work at the concept phase of a project. The technology selection, scale of operation and analysis of the ore properties encompass the majority of the studies undertaken.
Mike's clients have included Anglo American, Xstrata/Glencore, Barrick, MMG, Core Resources, Newmont, Newcrest, Randgold, Anglo Gold Ashanti, Goldfields, Straits Resources, Vale, Ausenco, Cliffs, Vedanta, CBH Resources, Boteti Mining, Petra Diamonds, CITIC-HIC, Fluor, WorleyParsons, GR engineering, Centrex, Mintrex, Minnovo, Maaden, Jacobs, Northern Minerals. Since 2007, Mike has been involved many diverse mineral projects, some of which were sub-contracted within the engineering companies of Fluor, Ausenco, Jacobs, Worley Parsons, GR Engineering, Minovo and Citic SMCC.
Eco-comminution®
Howard T. Odum (1924 – 2002) was a genius ecologist noted for his studies of energy flows in eco-systems, and application to energy use in society. In 1971 Odum's work set the scene with his publication Environment, Power and Society which studied ecological energetics and energy flows in daily human activity. He introduced the concept of emergy, the amount of solar energy embodied in everyday products. His work helped develop new fields of ecological economics and ecological engineering. Comminution processes or crushing and grinding processes are energy intensive activities in the production chain of producing everyday metals from mineral ores. The production of copper and gold are of particular interest because of the large consumption of steel grinding media or emergy used to grind the ore. Today life cycle assessments are sometimes used to describe a derivative of the "emergy" concept and is sometimes assessed in terms of "dollar cost" , "energy cost" and "CO2 equivalent" (Fig 1). Today the total energy within the comminution flow sheet is being assessed in terms of total kWh/t. As it turns out, some circuit designs, particularly those that use high pressure grinding roll (HPGR) technology are far more eco-friendly. Hence eco-comminution®. Dr. Mike Daniel, Director of CMD consulting Pty Ltd, based in Brisbane, is capable of assessing modern day comminution circuits using these concepts.Figure 1 shows CO2 contributions to the various stages of copper concentrate productions (Norgate and Haque, 2010):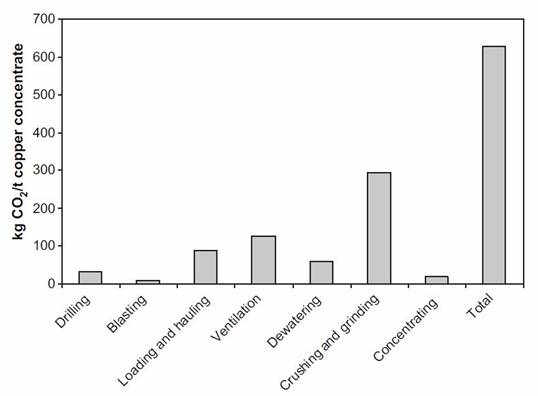 Figure 1: CO2 contributions to the various stages of copper concentrate productions
References:Norgate, T and Haque, N. (2010), Energy and greenhouse gas impacts of mining and mineral processing operations, Journal of cleaner production, Vol 18, pp 266-274. Odum, H. T. (1971), Environment, Power and Society, 1971, http://en.wikipedia.org/wiki/Howard_T._Odum#Emergy
Summary of capability
cmd consulting pty ltd provides the following services to assist mining companies in technical support and transfer of the HPGR technology to the industry in any country.
Provide technical services relating to but not limited to HPGR modelling and simulation, Eco-comminution circuit design, HPGR test work and analysis, energy reduction analysis and HPGR ore characterisation for pilot plant test trials.
As an independent consultant liaise for the client any interactions with the three currently available HPGR vendors.
Promoting potential collaborative arrangements with engineering companies, and other specialist consultants during scoping and feasibility studies.